Project application Form
Registration Deadline:  September 1, 2022 (Autumn Session)

DESCRIPTION
In this project you work for SGDS goal 3:

These are the  questions and activities during the project:
Who Am I?

Discovering my family roots and personal skills ( = Gardner intelligences) 

What Do I Want To Be When I become an adult?

Deceloping a dream. How to achieve my goal
AGE GROUP
This project is for any age group. It is also suitable for EFL students at the basic level.
Project background
The project is a short version of:the "Who Am I" program.
The Roots project  author:

Epi Sepulveda 

"Who Am I" program creator and developer: Patricia aWeeg (USA), Odd de Presno and Anne Tove Vestfossen (Norway) 
The project  supports the students to identify and appreciate themselves within their own family lineage. 
They will be encouraged to gather information about their heritage from various sources (parents and if possible, grand parents).
We all know our own countries very well, but what about the "others"?
Our companions come from countries, near or/and far.
The students are invited to ask other students to know more.
The global dialog is the main focus of the project. It is critical that kids have enough time dedicated to the dialog. So teachers need to guide their students answering the questions.
Information channels
Intrapersonal and other skills
All students have their specific potentials.
Growing up, they discover their potentials, intelligences and skills.
The teachers can help their students with this.
It is also important to develope intrapersonal skills, in other words, growing empathy, like e.g. recognizing their own reactions and getting better in  face, voice and behavioural recognition. With improved intrapersonal skills they become better in interpersonal relations.
It is known that student with good interpersonal skills succeed better in school and later at work, as they become better avoiding misunderstanding and conflicts.
During phase 1, the students get time for an introduction about intrapersonal, interpersonal and other skills.
Student work examples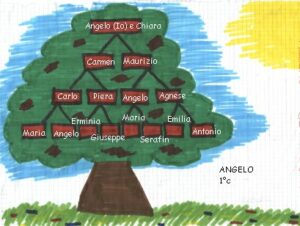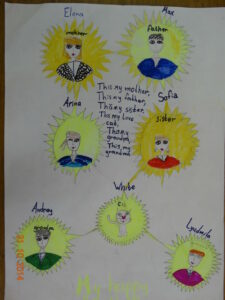 Our Kidspsce CMS contains a lot of student works.
Here is a page with a family three:
www.kidlink.org/kidspace/start.php?HoldNode=32768
Here is a page where Swedish students tell about their parents school life.
www.kidlink.org/kidspace/start.php?HoldNode=156
Kayla share some information about her grandparents in USA.
Timeline
(see Start in phases)
sRegistration Deadline:  September 1, 2022 (Autumn Session)
Starts end september 2022
Runs until December 2022
We ask teachers to register (See START PHASE below)
CMS (content management system)

In this project we work mainly in Moodle and Padlet.
A private Facebook group will also be used for manager-teacher coordination.
Moodle CMS
click here to go to our Moodle CMS
Login as a guest before registering.
Since 2022 we let teachers and student work on this system.
You can login as a guest.But the see project assignments, you must register and login. You do this by clicking here.
Padlet
Students ongoing works for this project are shared in Padlets.
You get information about this cms under resources.
Kidspace

We invite the teachers to present their school in Kidspace. Some may have done it already participating in another Kidlink project.
The project manager will share school presentation and selected examples of student works or part of work in Kidspace. Of course with the permission of the student, teacher and parents.
Kidspace is the student work archive. here you can see previous student works. You do not need to login to see these.
You go there by clicking here.
PHASES
Start

(for teachers)
The teacher ask the headmaster for support, informing about the  WAI 2000 during the autumn 2022.
For any headmaster requests, contact the project manager/coordinator.
The teacher finds teacher partners to cooperate with
The teachers fills the  Project application Form 

(link also on the top of this page.

Teacher informs their students about the project and its phases
Teacher and students register to the project.
See below under registration.
Make a school presentation


The teachers are invited to present their school shortly so other participating teachers will understand who they are cooperating with.




N.B. 

If the school has been presented during another Kidlink project, a link to it is shared with the project manager.
Phase 1

– Who am I? – Discover and describe yourself
Do you know the meaning and origin of your name?

What is your best skill and favourite activity? ( look at Gardner intelligences.)
Are you able to avoid conflicts? How do you do?

Phase 2 – What are my roots? – Looking back in time
Do you have any old photos of your family? With your parents permission, share photos with your class.
Have your family moved from the city/nation where you were born?
When did you move?
Do you know why you moved?
Ask your parents to tell you about the places that you can't remember because you were too little when you left.
Phase 3:

 

What Do I Want To Become as an adult?
The students wonder about different adult options, their advantages and disadvantages in Society.
How is it to be e.g. a doctor, an astronaut, a teacher, an electrician, a carpenter, etc. Talk with other adults, the parents or relative. 
Phase 4: What do I need to do, to achieve my goal?
What topics are important to study and know ?

What kind of studies/practices do I have to attend and do?
Registration
Registration
As said above, for teachers to be able to read the student answers
and for  student to answer questions in the project you must register here.
What happens then?
The project manager/coordinator will then add you and your students as members of the WAI 2000 project.

Then we keep in touch in our private FB group and the email group for phase 1.
---
USEFUL RESOURCES