Project Languages – English and Spanish
MY FAVORITE SNACK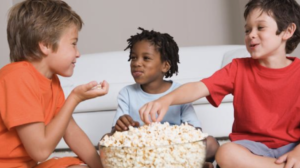 What is your favorite snack? Snacks can be comforting and sometimes nutritious. We like to share them with friends when we are studying or just having fun. Getting to know someone while sharing a snack is great! Let's get to know each other. Join us in an exploration of our cultural traditions by talking about and sharing our favorite snacks.
Part 1 – During this project students will do the following;
Introduce themselves and the city and country they come from
Show and describe their favorite snack
Explain what the ingredients are
Explain the characteristics of the snack that are appealing
Explain when they eat that snack
invite their project audience to share it
Students will create a FlipGrid video of no more than 3 minutes and post the link onto the group Padlet.
Part 2 – Students will share a written recipe for their favorite snack. They should include ingredients, measurements and the procedure for preparation.
Part 3 – Students prepare and eat the snacks suggested by their international peers. They should comment on the success of the recipe on the Padlet post of the snack.
https://padlet.com/elrumu/my-favorite-snack-project-mdk7yg9y6hibkm59
Join the "My Favorite Snack" Global Kidlink Project and learn and share the favourite snacks with peers around the world!
---

Enrollment Deadline: September 22
Start of the activities:   Part 1: October 2
Part 2: November 6
Part 3: December 4
End of activities: Dec. 15
---
TARGET AGE GROUP: This project is for 10-14 age group. It's suitable for EFL students at the basic level.
---
Get Organized in Kidlink
Application:
How to Register with Kidlink and Sign Up for this project.
1. If you have registered before, you do not need to register again.  If you have not registered with the  Kidlink Association, you need to do this one time to participate in any of our projects.
Teachers Register at this link –  Kidlink Registration Page.   This link goes to a Moodle page where you will click Create New Account.
2. You DO need to complete this Sign-UP Google form for your class to join the project:
---